Powierzchnia: 50m2

Łóżko:
double bed or two single beds
Wyposażenie:
Comfort type bed

bathroom

cosmetic set

towels' set

flat-screen TV
Wi-fi

writing set

bottled water
Queens of style
"Niepokorne, nieszablonowe, nieprzeciętne, silne. Genialne projektantki, wybitne kreatorki, błyskotliwe stylistki, sprawne menedżerki. Przełamywały tabu i śmiało dyktowały własne pomysły, które szybko stawały się nowym kanonem mody. Ich losy to pasmo szalonych namiętności, osobistych dramatów i zawodowej rywalizacji. Ich kreacje, ale też ich osobowość niezmiennie inspirują miliony kobiet. Bez "małej czarnej" wylansowanej przez Coco Chanel, nie wyobrażamy sobie naszej szafy, a kapelusz w kształcie buta czy suknia z homarem Elsy Schiaparelii nadal budzi kontrowersje i… pożądanie. Jeanne Lanvin, Coco Chanel, Nina Ricci, Donna Karan oraz Elsa Schiaparelli to nie tylko projektantki, to prawdziwe Królowe Stylu. Niech ich osiągnięcia dodadzą Wam skrzydeł do kreowania własnego stylu, a jeśli przyjdzie Wam do głowy pomysł na wyjątkową kreację… naszkicujcie ją od razu!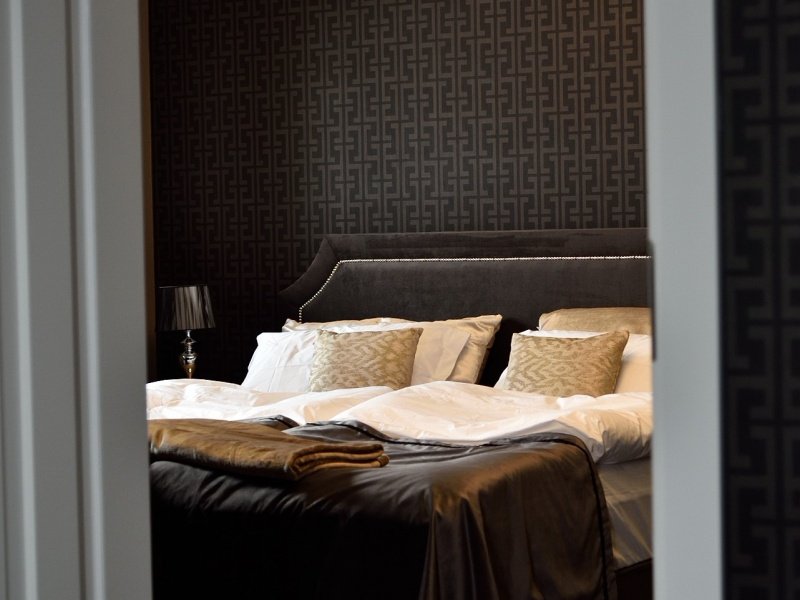 Queens of the screen
Złota era wielkich wytwórni Hollywood, w latach 30. i 40. ubiegłego stulecia, ugruntowała pozycję gwiazd srebrnego ekranu. Wielkie aktorki stały się wówczas królowymi – wręcz boginiami. Ikony tamtego czasu – Ava Gardner, Marlena Dietrich, Judy Garland czy Elizabeth Taylor to prawdziwe przedstawicielki rodziny królewskiej kina.
Piękne i niedostępne, otoczone obezwładniającą wręcz aurą sławy i bogactwa. Wzbudzały bezgraniczny zachwyt, elektryzowały mężczyzn, inspirowały kobiety, ustanawiając nowe trendy w modzie i obyczajach…
W tym pokoju poczujesz się, jakbyś właśnie szykowała się na oscarową galę. Już za chwilę staniesz na czerwonym dywanie obok Grety Garbo, Vivien Leigh, Rity Hayworth, a może Sophii Loren... Przed wyjściem zajrzyj do SPA… obsługujemy tylko królowe!